2022 Toyota Supra is back in the line-up after a long yet remains on the top with its performance and popularity. Sports car supra has never failed to impress with its unique personality and performance and shares the robust powertrain from its corporate sibling and Bavarian brother.
The sports cars come equipped with two different and powerful powertrains. It has a standard 2.0-liter four-cylinder engine that pumps out 255 horsepower and another option is the 3.0-liter inline six-cylinder engine that makes 382 horsepower with eight-speed automatic transmission and rear-wheel drive.
Toyota Supra is comfy with a snuggly cabin and plenty of space making its best for the long and tiring journeys to sit comfortably and enjoy. Supra accommodates plenty of intuitive infotainment and safety features that smoothens the driving experience. The athletic cues take Supra on the top and make it best to drive.
What's New in the 2022 Toyota Supra?
2022 Toyota Supra is coming with an all-new limited-edition trim known as A91-CF, it stands for carbon fiber. 2022 Toyota Supra A91-CF Edition comes with the carbon fiber body kit, rear spoiler, 19-inch matte black rear wheels with red and black upholstery. 
A91-CF Edition is available in three different exterior colors such as Phantom Grey, Absolute Zero White, and Nitro Yellow. Supra comes with standard heated seats and the addition of a red interior in the 3.0 models with Apple Car Play and an optional JBL stereo system.
What does inside and outside look like in the 2022 Toyota Supra?
2022 Toyota Supra has quite a driver-focused cockpit which is protected with a double-bubble roof providing extra headroom for the taller adults to sit comfortably and drive without getting cramped or pinched. Supra has cramped-up cargo space but the hatchback variant is quite roomy enough to store heaps of stuff behind the rear seats. 
Toyota Supra shares the interior cues with its corporate sibling Z4. The finishes and fit of the sports cars are quite alluring giving off the subtle and soft drive at higher speeds. 
Supra has a similar-looking version of BMW's latest iDrive interface with an 8.8-inch central display, digital gauge display containing a distinctive design across the range. It incorporates Apple Car Play, an in-built navigation system with an optional 12-speaker JBL audio system, and a standard 10-speaker audio system.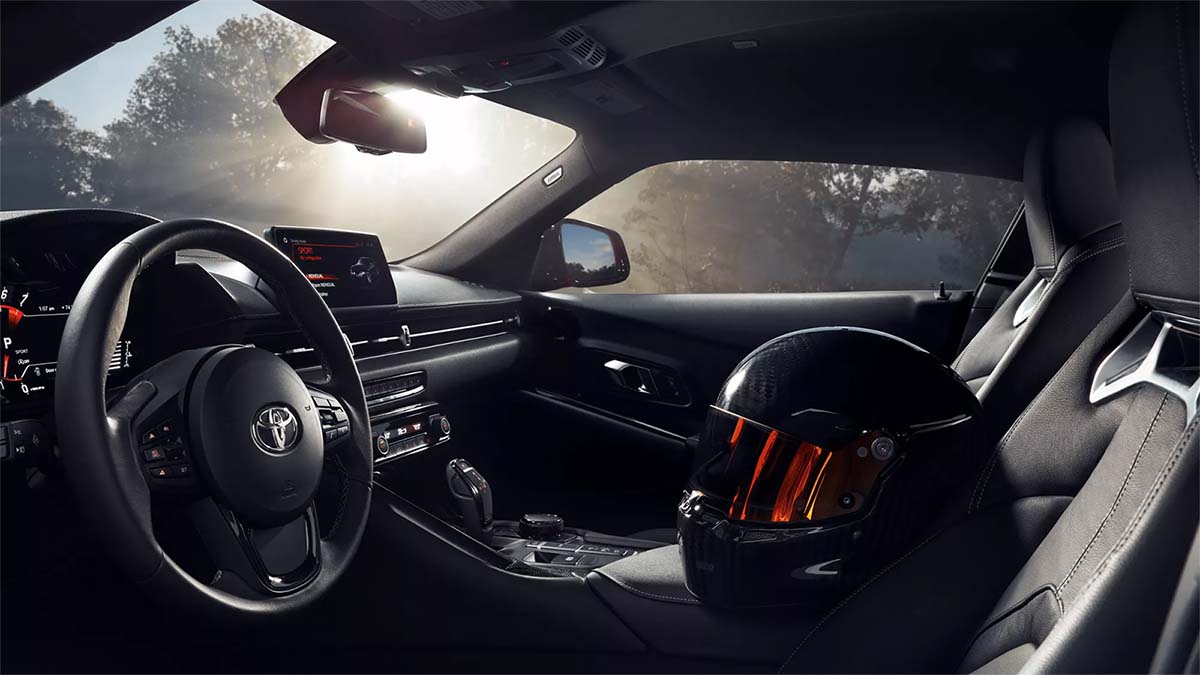 What are the Engine and Performance capabilities of the 2022 Toyota Supra?
2022 Toyota Supra comes with the 3.0-liter turbocharged inline six-cylinder engine that pumps out 382 horsepower and 368 lb-ft of torque filled with plenty of power and instant response. Supra features cat-back exhaust with performance-like characteristics. 
2022 Toyota Supra A91-CF 0-60 mph covers in 3.7 seconds and 100 mph in 9.5 seconds. Supra is quite quicker than the fourth generation and is fuelled up by turbocharged inline-six-cylinder pumping out 320 horsepower. Supra has high-performance potential which gives the high leverage against its rivals Chevy Camaro, Porsche Cayman GTS, and BMW M2 Competition. 
Supra is performance-focused with exciting driving dynamics which is quite weighted and is fun to drive for long hours. 2022 Toyota Supra with turbocharged four-cylinder engine delivers 25 mpg city and 32 mpg on the highway.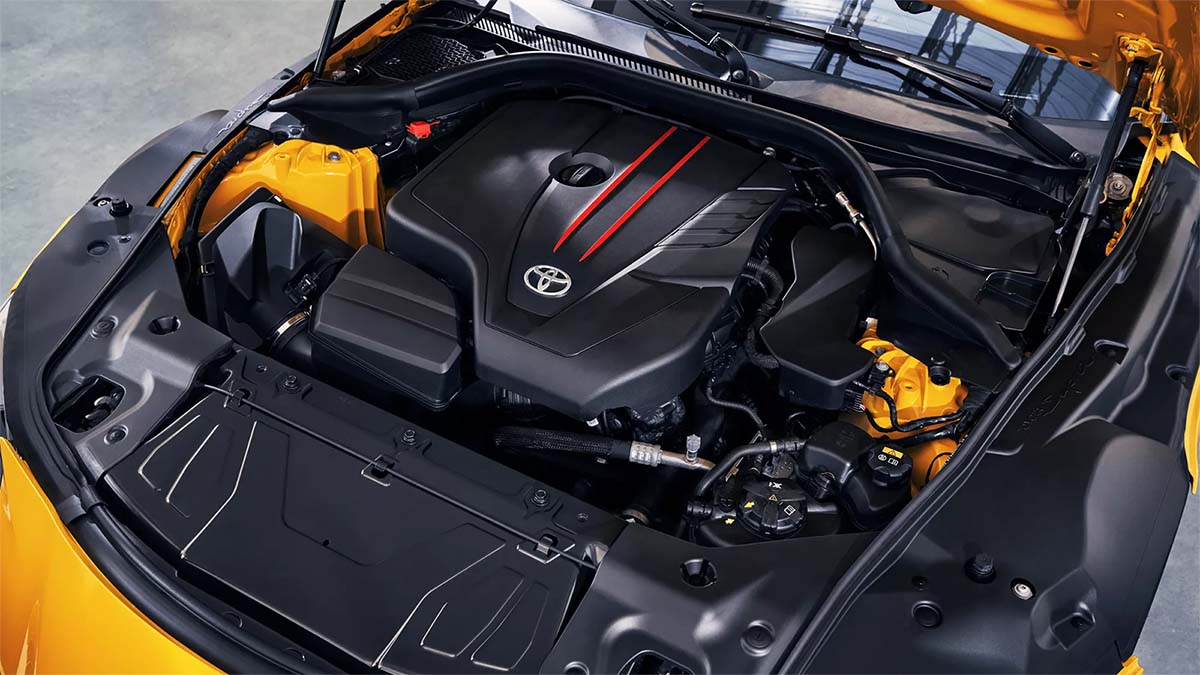 How many trim levels are in the 2022 Toyota Supra?
2022 Toyota Supra has four different trim levels such as 
2.0- $44,315
3.0- $52,665
3.0 Premium- $55,815
A91-CF Edition– $64,305
What are some safety features available in the 2022 Toyota Supra?
2022 Toyota Supra comes with a series of driver assistance features and is crash-tested by NHTSA and IIHS to retain five-star ratings. The drivers can use an array of safety features such as automated emergency braking, adaptive cruise control, blind-spot monitoring, pedestrian safety detection, lane-departure warning, and automatic high beams.
Specifications of 2022 Toyota Supra
Engine

3.0-liter turbocharged inline six-cylinder

Horsepower

382hp

Torque

368 lb-ft

Transmission

Eight-speed automatic

Fuel Economy

22mpg city, 30 mpg highway, and 25 mpg combined

0-60mph

3.8 seconds

Top Speed 

160 mph

MSRP

$44,315
---